2010/1
Contents
Cultural Theory
Astafieva О., Razlogov К.
Cultural History
Flier A.
Sokolov A.
Applied Cultural Research
Shapinskaya E.
Goryainova О.
Humanities
Rabinovich V.
Bogatyreva E.
Small Encyclopaedia
of Culturology
Shestakov V.
Anniversaries
Ryleva A.N.
Reviews
Hrenov N.
Current Events
For the 75th Anniversary of Vadim Lvovich Rabinovich

UDC 008:316.42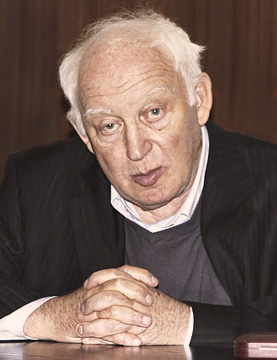 Vadim Rabinovich, a poet, philosopher, and cultural researcher was born in Kiev in 1935; he graduated from the Mendeleev Moscow Institute of Chemical Technology (1959) and Gorky Literature Institute (1967). In 1967, he received his Ph.D. in Chemistry and in 1986, obtained a Doctor in Philosophy degree for the work on the history of alchemy. He is the head of the Cultures' Languages Department of the Russian Institute for Cultural Research (Moscow).








© N.Nazarova, photo, 2010
Founder
Russian Scientific
Research Institute
for Cultural and
Natural Heritage
named after
D.Likhachev

Publisher
Russian Scientific
Research Institute
for Cultural and
Natural Heritage
named after
D.Likhachev

Certificate
of the mass
information media
registration:
Эл. № ФС77-59205,
date: 03.09.2014

Frequency
4 issues per year

Published
online only



© Российский институт
культурологии, 2010-2014.
© Российский научно-
исследовательский

Мнение редакции может не совпадать с мнением авторов.
The authors' opinions expressed therein are not necessarily those of the Editor.

При полном или частичном использовании материалов
ссылка на cr-journal.ru обязательна.
Any use of the website materials shall be accompanied by the web page reference.

Поддержка — Российский научно-исследовательский институт
культурного и природного наследия им. Д.С.Лихачева.
The website is managed by the Russian Scientific Research Institute
for Cultural and Natural Heritage named after D.Likhachev