2012/4(10)
Contents
Cultural Theory
Kapustina L.
Yerokhina T.
Cultural History
Shelegina O.
Chiozzi P.
Applied Cultural Research
Urmina I.
Smentsarev G.
Humanities
Shapinskaya E.
Zhukova O.
Small Encyclopaedia
of Culturology
Shestakov V.
Anniversaries
Kondakov I.
Mesyanzhinova A.
Russian Institute for Cultural Research – 80 years
Astafieva О.
Tomilov N.
Sorokin A.
Reviews
Akopyan K.
Bagdasaryan N.
Current Events
UDC 80-051
Alexander V. Vaschenko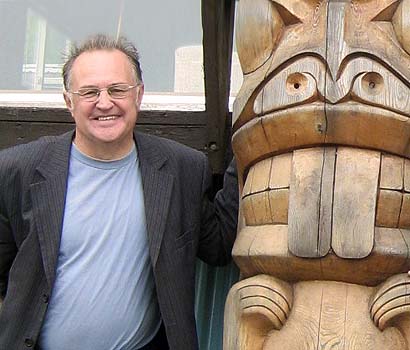 Précis.
Alexander Vladimirovich Vaschenko is a renowned specialist in Native American Studies. He was born in Moscow and graduated from the Lomonosov Moscow State University, the Philology Faculty. In 1974, he defended his dissertation on contemporary Indian literature in the United States. In 1977–1995, he worked in the Gorky World Literature Institute of the Russian Academy of Sciences, where in 1993 he defended the doctorate thesis on historical epic folklore of the North American Indians, its typology and poetics. Since 1995, Alexander Vaschenko works at the Moscow State University and since 2002, he holds the chair of comparative studies in national literatures and cultures at the Faculty of Foreign Languages and Area Studies of the University; in 2009, he founded there the Culturology Department. Most of his professional activities are related to research, translation, and other introduction of Native American writings to Russia. His interest in Native literature was also represented in
The Way of Kinship: An Anthology of Native Siberian Literature
published in 2010 by the University of Minnesota Press. The works of contemporary Native writers were translated and edited by A. Vaschenko and C. Clayton Smith.
Founder
Russian Scientific
Research Institute
for Cultural and
Natural Heritage
named after
D.Likhachev

Publisher
Russian Scientific
Research Institute
for Cultural and
Natural Heritage
named after
D.Likhachev

Certificate
of the mass
information media
registration:
Эл. № ФС77-59205,
date: 03.09.2014

Frequency
4 issues per year

Published
online only



© Российский институт
культурологии, 2010-2014.
© Российский научно-
исследовательский

Мнение редакции может не совпадать с мнением авторов.
The authors' opinions expressed therein are not necessarily those of the Editor.

При полном или частичном использовании материалов
ссылка на cr-journal.ru обязательна.
Any use of the website materials shall be accompanied by the web page reference.

Поддержка — Российский научно-исследовательский институт
культурного и природного наследия им. Д.С.Лихачева.
The website is managed by the Russian Scientific Research Institute
for Cultural and Natural Heritage named after D.Likhachev