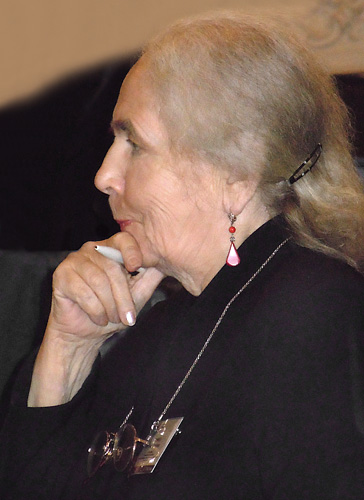 Elena Efimovna Kuz'mina (Kuzmina) is Russian archeologist and cultural researcher. She is a member of the Russian Academy of Natural Sciences (1998) and a Honoured Science Worker of the Russian Federation.
She graduated from the History Faculty of the Moscow State University; her postgraduate studies were directed by renowned archaeologists and Indo-Iranian culture historians Mikhail Diakonoff and Mikhail Gryaznov. In 1964, Elena Kuz'mina received her PhD and in 1988, she defended the doctoral dissertation in history. Her doctorate was published in Moscow in 1994 as a monograph on Indo-Iranian migrations (''Otkuda prishli indoarii?'').
In 1957, Elena Kuz'mina became a member of the Archaeology Institute where she worked for about thirty years. She began her field work in the Eurasian Steppes, directed site excavations in Southern Urals and Qazaqstan, discovered about 100 sites and dug more than 40 settlements and burial grounds of the Bronze Age. Since 1986, she works at the Russian Institute for Cultural Research (Moscow).
In 2007, the Brill published ''The Origin of the Indo-Iranians'' by Elena Kuz'mina, which was the fruit of her life-long quest for the Andronovians and Indo-Iranians. The book on the ''Prehistory of the Silk Road'' was first published in English (2008) and only lately in Russian (2010). The two books combined detailed research in archaeology with evidence from anthropology, linguistics, and other fields, incorporating both primary and secondary sources from a range of languages, including Russian-language scholarships largely unavailable for Western readers.
Dr Kuz'mina has published more than 300 articles and 15 books on the archaeology of Eurasian Steppes, origin and migration of Indo-Iranians, their mythology and arts, essays in museum policies and projecting. She is a Corresponding Fellow of the German Archaeological Institute (1982), Member of the Società Iranologica Europea (1996), and of the European Association of South Asian Archaeologists. In 2009, Dr Elena Kuz'mina won the Islamic Republic of Iran's World Prize for the Book of the Year for her work ''The Origin of the Indo-Iranians''.