2011/2(4)
Contents
Cultural Theory
Mezhuev V.
Tlostanova М.
Cultural History
Shoulepova E.
Flier A.
Vishlenkova E.
Applied Cultural Research
Astafieva O.
Sokolov А.
Humanities
Avanesova G.
Ilyshev P.
Steiner E.
Small Encyclopaedia of Culturology
Vlasenko V.
Shestakov V.
Anniversaries
Ploskih V.
Polyakov Т.
Hrenov N.
Reviews
Kuznetsova Т.
UDC 008:316.42
For the 65th Anniversary of Kirill Razlogov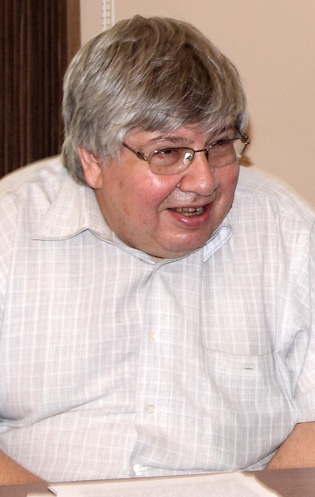 Professor Kirill E. Razlogov is a distinguished figure in Russian cultural research and an internationally known film critic.

Kirill Razlogov graduated from the Moscow State University (M.A. in Art History) and started research work at the State Film Archives (Gosfilmofond) where he specialized in foreign film history. In 1976, he has defended a dissertation on the expressive means of the early feature films (1895–1914) and received his PhD in Art History. In 1985, he upheld the doctoral thesis on the contemporary foreign cinema. He worked at the State Film Archives, Research Institute for Film Theory and History, State Film Committee of the USSR, and in 1989, Dr Razlogov was elected as a Director of the Russian Institute for Cultural Research.

Since 1972, Dr Razlogov lectures on the film history at the Higher Courses for Film Directors and Script Writers; in 1988, he began lecturing on the world film history at the Gerasimov All-Russian Institute for Cinematography. He has published about one thousand articles, interviews, reviews, etc. on film art, its history and current development, media, culture and cultural policy in paper and e-periodicals; he is the author of 14 books including the ''Counter-Culture and the 'New' Conservatism'' (1981), ''Art of the Screen'' (1982), ''The Crash of Illusions'' (1982), ''Gods and Devils in a Mirror of Screen'' (1982), and ''Commerce and Creativity: Enemies or Allies'' (1992), ''About Cinema, But Not Only'' (2009), ''Art of the Screen: from Cinema to Internet'' (2010).

Dr Razlogov was the chief editor of ''The First Century of Cinema'' (1997) and ''The First Century of Our Cinema'' (2006) encyclopaedias; he presides editorial boards of the ''Journal of Cultural Research'' and the ''International Journal of Cultural Research'' (both e-periodicals since 2010), and the ''Culture & Art'' journal (2011). He is a member of the Filmmakers' Union and the National Academy of Motion Picture Arts and Sciences of Russia. He is the Programme Director of the Moscow International Films Festival and other.

Founder
Russian Scientific
Research Institute
for Cultural and
Natural Heritage
named after
D.Likhachev

Publisher
Russian Scientific
Research Institute
for Cultural and
Natural Heritage
named after
D.Likhachev

Certificate
of the mass
information media
registration:
Эл. № ФС77-59205,
date: 03.09.2014

Frequency
4 issues per year

Published
online only



© Российский институт
культурологии, 2010-2014.
© Российский научно-
исследовательский

Мнение редакции может не совпадать с мнением авторов.
The authors' opinions expressed therein are not necessarily those of the Editor.

При полном или частичном использовании материалов
ссылка на cr-journal.ru обязательна.
Any use of the website materials shall be accompanied by the web page reference.

Поддержка — Российский научно-исследовательский институт
культурного и природного наследия им. Д.С.Лихачева.
The website is managed by the Russian Scientific Research Institute
for Cultural and Natural Heritage named after D.Likhachev